About Naadi Astrologer - Dr.K.Selva MuthuKumaran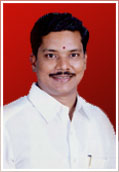 I, Mr. Selva Muthu Kumaran, is one of the most famous successful vedic astrologer, Naadi Jyotish and palm leaf reader in India. I have started my career when I was 13, and continuing to enrich myself with this esoteric knowledge every day. I inherited and learned most of it from my father, who is also an astrologer. With his blessings, horoscope analysis and Naadi reading
has become my main forte. Additionally, I'm well versed in Hindi, Telugu, English, and Tamil. I have done "Phd" in Philosophy (Astrology) and diploma in Hindu Astrology. Since, last 18 years, I'm practicing in this field. I have life time passion for Vedic Astrology, Naadi Astrology and Jeeva Naadi Reading.In addition to practicing vedic and nadi astrology, I am also an expert on Yoga Kalai, Vasi Yogam, Numerology, Vasthu, and Gemmology. I believe in dissemination of true knowledge and therefore I am teaching others about this spiritual and holy science. Nothing can be achieved without a true guru, and I was fortunate to have two gurus in my life. I owe everything to my two gurus "Ekambaram" and "Maharishi Dhayanantha Jyothi Swamy.
I have written approximately 450 articles in various magazines on issues including Astrology, Palm Leaf, Remedies, Spiritual, Numerology, Gems, and Vasthu. Using various techniques rooted in vedic and Nadi astrology, I can predict past present and future of a person.
Click here for photo gallery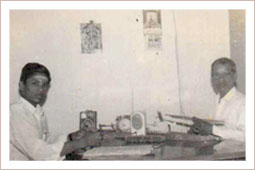 I have given predictions for many famous personalities in the field of cinema and politics. In 1999, I predicted for Chandra Babu Naidu (former chief minister of Andhra Pradesh) for his political career. Per the prediction he succeeded in politics (please refer to newspapers dated 11-08-1999). I have also been invited as guest speaker on spiritual and astrological discussions and commentaries in many T.V. channels and radio talk shows e.g. Sun TV and Raj TV. With my authentic predictions, I have satisfied various seekers from Australia, U.S.A, U.K, Japan, Singapore, Malaysia, Canada, Sri Lanka, Holland, Belgium, and Germany.
Some famous and public personality wrote about me:
"Dear, nadi Lovers, find Tiru Selva Muthu Kumaran very able and knowledgeable nadi Astrologer. He is young and yet thousands of readings are to his credit. The clients include many great personalities from all fields like Political to Cine world to doctors, pleaders, engineers, scientists and rationalists. Everyone has gone back satisfied with his readings and interpretation of intricate Tamil Poetic words. He is expert to explore the inner meanings of expressions, used by Maharishi for specific persons. It is an experience of life time to be in front of him and get divine words of Maharishi Atri and Mata Anusuya."
- Wing Commander Shashikant Oak
"You will become a famous astrologer, in very young age, you will write so many books related vedic Astrology and Naadi sastra. It is all to give enthuses to universe even though you will a very young astrologer". He has participate in the various Astrology competitions and he succeed and he got the award about article. In Astrology he got a very good fame, in young age, he has written "Panjamamey Prathanam" for this article he got gold medal award. You can refer the magazine Gnanachinthamani (13-05-1996).
- Maharishi Dhayanantha Swamy
I have been awarded Bala Jyothidar Award, Jyothisha Prakash Award, Naadi Jyothisha Elavarasu Award, and Jyothisha Rathna Award.
My brother, Mr. K. Sundar Swamy is also in the same profession and he assists me in all professional and personal work since childhood.
Nadi Astrology (Nadi Jothidam) ( Olai Chuvadi )
Nadi
is an ancient astrology ( Palm Leaf Astrology ), which has been composed by great Maharishis (sages)(Atri)... of India in the past using their spiritual powers. The sages recorded these predictions for every individuals for the betterment of humanity and to safeguard dharma (righteousness). These sages predicted the characteristics, family history, as well as the careers of innumerable individuals contain in several thousand volumes, each containing around a hundred predictions.
Are you curious to know what future has in store for you in terms of wealth, health and occupation? Is this the year to find your true love or attain ultimate success in your vocation? Get the answer to all your burning questions through
Nadi Astrology ,
( Olai Chuvadi Astrology ).
It all started centuries ago when Vedic Seers and Saints predicted the future of every individual and inscribed it onto palm leaves. These treasured palm leaves are referred to as "Nadi" and the Vedic predicting technique which uses these leaves as a medium is called "Nadi Astrology"
History of Nadi Astrology (Nadi Jothidam)
In general Nadi Astrology can be known in other names such as naadi josiyam,naadi jyotish,nadi josiyam,nadi jothidam.Thousands of years ago that the

Saptharishis

who had written the palm leaves with their yogic's power. They are also called as

Sages of India

. They had the power to look into the past and future of the entire universe and recorded the life of human being who either lived were living or were to live. Their discussions were written on palm leaves in an ancient Tamil script. Which can now only be deciphered by

Expert Nadi astrologers

. These predictions which are written on the leaves are from the day the person comes to know the service of Nadi Jyotish | Naadi Jyotish. So the predictions are pre-written and these predictions are just read by the Nadi jyotish | Naadi Jyotish.
There must be a millions of leaves written for each person the world. But the leaves themselves state that only, if the person has in his karma he will get his leaves. Even though leaves are not only for Indian nationals but also, for foreigners and other nationals belonging to other religions and creeds. Its all one destiny to get the leaf identified and predictions known to the person concerned.
The origin of the
Nadi astrology (palm leaf reading)
can be traced back to approximately thousands years ago. It is said about nadi astrology that the Indian Rishis or sages had written the life patterns of each persons life on palm leaves by their Yogic Intuitive powers. These unique leaves were initially kept in the temple library. Later who were very much interested in knowledge related to nadi astrology they got the leaves from the library. This is a traditional service and is being practiced by generations downwards.
The primary center for
Nadi-Shastra ( Nadi jothidam or Naadi josiyam)
is in Vaitheeswarankoil, near Chidambaram in Tamil Nadu, a state in South India. Here
Lord Shiva
is said to have assumed the role of a 'Vaidhya' or 'Doctor', who all aviated the miseries of his devotees. It seems that these nadi palm leaves were originally written on animal skins and some leaves, and later nadi Astrology texts were copied on palm leaves. nadi Astrology sources was also preserved by applying oil extracted from peacock's blood.
We provide
Nadi jyotish online (Nadi jothidam online | Nadi josiyam online) services
fom our website through online live video chat for your convenience from india.
Following are some fascinating info about Nadi Astrology or Nadi Jyotish
Nadi
is a developed science as Numerology, Palmistry etc which is apparent from the ancient manuscripts like
'Brihat Samhita'
and
'Jathaka Parijatha'
.
Astrology predictions based on Nadi leaf is segregated into 14 main Chapters. Of these the first 12 Chapters relate to the 12 Houses of one's birth chart whereas the 13th and 14th are remedial chapters.
Nadi Shastra
helps you to know the purpose of your life. The predictions of the Nadi are mostly in Tamil poetic Language and Sanskrit by using code words for astrological and other terms. These are deciphered by the Asans (Teachers) or
Nadi readers or Nadi Astrologers,
who are trained to read these
Nadi palm leaves ( Olai Chuvadi )
.
You will be amazed to know that no one can even come to know about Nadi and to even seek out their Nadi leaf, unless drawn by divine forces to reunite with their unique leaf that was revealed by the Nadi itself! To add to your amazement,

Nadi Jyotish , Nadi Shastra , Nadi Astrology

or

Palm Leaf Astrology

could even predict events like natural calamities. Isn't it enticing?
Nadi Jyothish ( Nadi Astrology ) ( Olai Chuvadi ) ( Palm Leaf ) unlocks an elite world to witness & enables to...
·
Identify the remedies to eradicate the complexities that keeps you stuck and stagnant
·
Obtain secret knowledge about the forthcoming positive and adverse periods in your life
·
Find answers to questions that have been bugging you for long...
You are invited to search your Nadi leaf ( Olai Chuvadi ) to find your future!
Visit here , Below websites...